No. You should never leave a solar cover rolled up in the sun – even for a short period of time.
The nature of a bubble cover is to allow the suns rays to penetrate through the bubbles. When rolled up on roller or reel, these can build up heat internally through the multiple layers to the point of expanding the bubbles, over-heating the plastic and in extreme cases,  melting the layers together! The expansion of the bubbles on the flat side of the solar blanket is evidence the cover has been exposed to heat and the Sun when not on the pool. This can cause the cover to appear to shrink in size as the upward expansion of the bubbles, causes the cover to contract and measure less than before the bubbles were expanded.
The excess heat can cause a premature degradation of the plastic in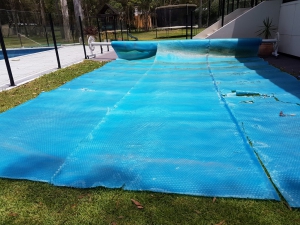 sections across the blanket around the width of the rolled up blanket (around 300mm)  and 900mm apart which is commonly known as "Roller Burn". This caused by not covering the blanket when it is rolled up on the Reel. The way to avoid this is to always cover the blanket when rolled up on the aluminium tube of the Roller Reel.
Again, you can confirm this by looking at the flat side of the bubbles and seeing if the layer is flat or slightly indented (normal) or raised a little, and this means the blanket has been exposed.
You cannot reverse this damage, but you can prolong the life of the pool cover by preventing any further exposure. Always use the 'Overcover' provided with your reel/roller to protect the solar blanket when stored.  If you do not have an overcover, you can purchase one from your poolshop, or you could make one using a reflective tarp.
ABGAL supply an overcover with all Hydrotools branded reels. It is a white, heat reflective poly tarp fabric with a cord at each end, designed to slip over the rolled up solar blanket pool cover.