At least once a month we hear from someone who has a fibreglass walled pool, who has made the mistake of resurfacing it with pebbles.
This 'Glascon' pool in Brisbane is one of them. Glascon pools have a concrete base, and use a rolled fibreglass sheeting for the walls. A common issue with these type of pools which have a separate base and walls, is leaking in the joint where the walls and floor meets.
This leak between the walls and floor joint was precisely the case with this pool. The most effective way to solve these leaks is with the installation of a flexible, waterproof membrane such as a pool liner, or an Aqualux pool finish.
However, when the home owners approached some pool builders for quotes to repair the pool,  one told them resurfacing with pebble would be effective, and add more value than a vinyl liner. As you do, they trusted their pool builder's advice, and decided to go ahead with the pebble coat.
Costing many thousands of dollars to install, the pebble interior lasted around 12 months before it failed. It leaked, it cracked – and then it literally fell off the walls.
The only thing the pebble added value to was the builders wallet.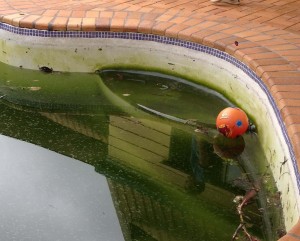 Naturally that pool builder has since left the Brisbane area, and not covered by insurance, the homeowners were left to sort out the mess themselves.
Luckily, this time around they found themselves in contact with a reputable pool builder. And rather than just go ahead and build a whole new pool inside the existing one, he suggested installing a pool liner, and put them in touch with Complete Pool Liners.
Complete were able to resurface the existing pool shell with an Aqualux Pool Finish, creating a waterproof membrane which covers the entire surface. The pool was finished and ready to swim within 2 weeks. The owners were happy with the price, and couldn't be happier with the result.