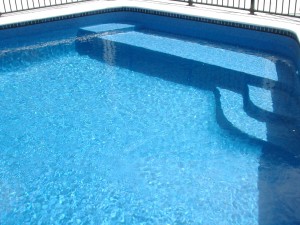 I often get a puzzled look when I talk to someone about a vinyl liner for an Inground Swimming Pool. Most people know that vinyl liners are used in Above Ground Pools but many have never heard of using a 
vinyl liner as the finish of an Inground Pool
.
A vinyl pool finish, is one of the most popular types in the world for Inground Swimming Pools. Why is that I hear you ask? Well there are a few good reasons, but the most important being that vinyl is low maintenance and it is flexible. From a structural point, vinyl is popular because it will accommodate ground movement as it does not crack. This means in cold climates where the ground freezes in winter, vinyl is the ideal finish as it will cope with the movement in the ground caused by the freeze/thaw process. That's one of the reasons why vinyl is not as common in Australia as our capital cities do not get cold enough in winter for the ground to freeze. But, we do have plenty of areas where ground movement is a problem, which makes vinyl a great solution.
Now, there are plenty of vinyl lined Inground pools in Australia. Most of these pools are a pre-engineered style, where a substantial amount of the structure of the pool has been built in a factory and is then taken to site and assembled and installed. Pre-engineered vinyl pools offer much quicker installation times than concrete as they are not required to remain empty for a number of weeks to allow for the curing process. They have the advantage they can be built any size or shape, many Olympic size competition pools are vinyl lined. The pre-engineered system means they are very accurate in size (which is very important in competition) and they can be built much faster as a large percentage of the construction is already done in the factory before the panel modules arrive on site.
So, when looking to build a new pool or when you need to fix a cracked and leaking concrete or Fibreglass pool, think vinyl. It is the ideal pool finish that is thicker than 15 layers of paint, smooth to touch so it is child friendly and best of all is low maintenance, so you can have more time to enjoy your pool rather than scrubbing.
See how fabulous an Inground vinyl liner can look……..