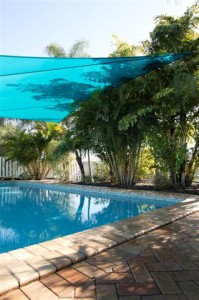 When building a new pool or renovating an old one, there are two key accessories you need to consider during the planning stage.
They are often overlooked… What are they? Your pool cover and shade sail.
Pool covers and shade sails function best when they've been incorporated into your plans for the pool surround, from the beginning.
Planning for these upfront, allows you more choice for the type of cover which suits your lifestyle, as opposed to what fits your pool surround.
What I mean is, pool owners often limit their choices because they fail to plan for the necessary space to install the type of pool cover and shade sail which best suits their needs.
Let's start with shade. In your planning, consider these common questions…

Q. How do I know where to put the shade sail over my pool?
A. As the sun (and therefore shade) moves throughout the day, start by deciding on the time of day and time of year you want shade over your pool. Then, at the time you've identified, use a broom handle or pool telescopic pole to create a shadow where you want it to shade. This helps you to identify where the perimeter of the shade sail needs to be located, to provide the shade where and when you need it. Often you'll be surprised by the position of a shade sail to achieve your desired shaded area. Another good option is to talk to your Shade Sail supplier, who can advise the best shade sail position to achieve your shade needs too.
Q. I have young children who just wade on the pool steps, do I really need to shade my pool?
A. Yes, with young children you will want to shade the shallow area of the pool as well as the steps. These are the areas of the pool most young children play, so to protect them from the harsh Sun, make sure these
areas of the pool are shaded at the times they are most likely to swim.
Q. I need somewhere shaded to sit and supervise the kids, can I do this too?
A. Yes, you can shade parts of the pool itself and your pool surround. When you supervise your children while they are swimming, you may have a favourite lounge or chair position and this should be included in the shade footprint as well. Choose an area where you can sit and relax poolside.
Q. My pool will be heated, how will a shade sail affect this?
A. Shade sails do a great job of keeping the Sun and heat off the areas they protect. This means that there is less heat from the Sun to increase the water temperature, so you may need to have external heating like a solar pool cover and/or solar heating, to counter the shade affect and maintain your desired water temperature. A fully shaded pool can be 4° – 6° cooler in water temperature than an unshaded pool.
Q. Do you have overhanging trees that will drop leaves into the pool?
A. If so, you can adjust the shape of your shade sail to assist with protecting the pool from falling leaves. But you also need to ensure there is enough slope on the shade sail to stop leaves accumulating on top of it.
Q. I want more privacy when bathing, can a shade sail help?
A. Yes, a shade sail can absolutely give you extra privacy in your pool area. A shade sail normally has two opposing high fixing points and two low fixing points. You may be able to use these variable fixing heights to provide additional privacy for overlooking properties, so consider this too as part of your overall shade design.
Now you know where your shade sail needs to be located, the next stage of planning is to look at the surround and decide how it can be secured. A shade cover requires fixing points, some of which can attach to the house, but most are fixed to posts in the ground. Imagine if the posts you need could be integrated as part of the pool fence or pergola? What if the fixtures were discreetly located as part of the house? These now become options by planning the shade cover before the pool or the landscaping is completed.
Next week I will talk about planning for your pool cover.