Cricket Pitch Covers / Wicket Covers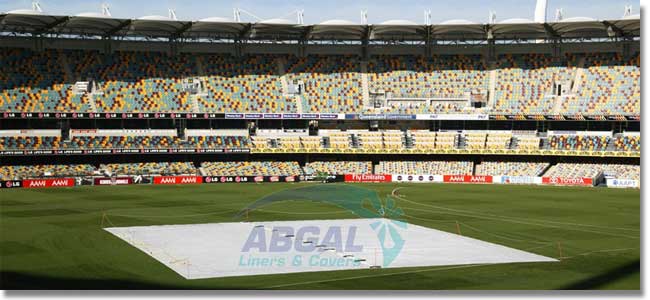 Buying a new wicket cover for your cricket club or school? ABGAL cricket pitch covers can be supplied in one piece, or in modules with special overlap joins that are fully waterproof. Be it a practice wicket at a primary school, or a cover for an international test, ABGAL can make a cover to suit your club's needs and budget.
ABGAL have been manufacturing quality cricket covers for Australian clubs, and exporting to other cricketing nations since 1976. From the Gabba in Brisbane to Melbourne's MCG, right through to local clubs and schools, covers are available as custom made to suit, or in a range of standard sizes and finishes.

'Ready made' covers available in a range of standard sizes, up to 35m x 22m

Due to popular demand, we are now keeping a larger range of 'standard' sized, ready made covers in stock. Featuring re-enforced eyelets and webbing handles, these covers are available for next day despatch. Prices include gst, but exclude freight. Pick up is available for anyone in the Brisbane or Logan area.
To order a cricket pitch cover at these prices now, you can email us anytime with your details, or phone during business hours 07 3803 9000/ Freecall 1800 077 533.

Standard cricket cover features include
Low maintenance, long lasting quality.
Specialist 260gsm white PE (Polyethylene) fabric to reduce heat build up on grass.
Lightweight material for handling by one person during pitch preparation and for game emergencies.
Webbing handles for easier lifting.
All edges fitted with re-enforced eyelets.
Or talk to us about custom made pitch cover options and special finishes
ABGAL uses only specialist cricket cover fabrics, designed for ease of handling. Most cricket covers are made using SuperDry PE, (as preferred by the GABBA), but for a more flexible cover which literally 'hugs' the ground, you can opt to have a cover made using SuperDry PVC.
All our pitch covers come standard with our 'Groundsman' Hem (welded hem and eyelets 1.2m apart), but there are alternative hem styles and Cricket Pitch Cover Finishes to choose from.
A cover can be custom made to suit your club needs - any size, shape and finish.

Whats the best way to peg a pitch cover down?
You may be surprised, but many professional Curators use re-cycled valve stems from a car wrecker to peg a pitch cover down! They are the perfect shape, plus they are strong and long lasting. Plastic pegs from a camping outlet are also suitable, but we do not recommend the use of tent pegs, as they may damage the fabric.

'CoverBuddy' Sand Bags hold your pitch cover down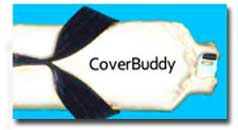 Used to weigh down the cricket pitch covers, each 'CoverBuddy' is 750mm long when filled and 140mm in diameter. They hold 0.01m³ of sand or 1 cubic metre will fill 100 bags. The bags are supplied empty with an ezy-fill system at one end for easy filling.