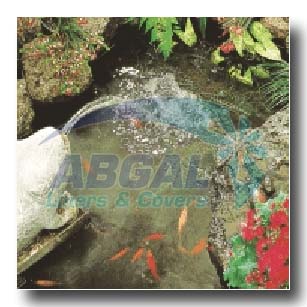 A pond is a great way to add life and atmosphere into any garden, and a specialist pond liner from ABGAL makes it easy. Simple to install, our pond liners are economical, and an excellent alternative to plastic tubs, fibreglass shells or concreting. You can purchase pond liner in flat rectangular or square sheets, or by the metre 'off the roll' at many retail outlets. Read more about our DIY install pond liners here.

For a neat or formal finish, ABGAL can custom-shape liners to suit a pond with vertical walls made from concrete (or other materials). Plastic extrusions are used to fasten these custom shaped liners to the walls, providing a neat finish under paving or tiles.
Liners are the perfect way to fix leaking fountains or ponds, or to create a new water feature. By following the step-by-step instructions, you can use ABGAL pond liner material to create a durable (and attractive) pond almost anywhere!
For pricing or to find out more about dam liners, pond liners or other geomembrane products, Freecall 1800 077 533 or use our Pond or Dam Liner enquiry form.