Tarpaulins and Industrial Covers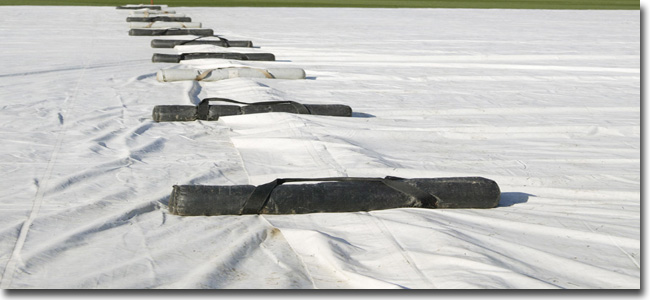 ABGAL can supply tarpaulins up to 2500m² for covering bulk grain storage, temporary buildings, sheds and other general applications. Tarpaulins are available in a variety of fabrics including PVC, LDPE, polyetheylene and reinforced polypropylene. All seams are fully welded and the hems can be reinforced to suit individual requirements. For larger projects, tarpaulins can be supplied in modules and overlapped or joined onsite.
Enter your details onto our Tarpaulins enquiry form, and submit for a quote.

Cricket Pitch and Sporting Field Covers
For detailed information about cricket pitch covers, visit our Cricket Pitch Covers page and Enquiry Form. ABGAL have been making wicket covers since 1976, and have a selection of styles and grades, with options suitable for any application, from covers for school practice nets to full sized covers for international tests.

Fumigation Tarps
We also manufacture fumigation tents to meet the Australian Regulations for the use of Methyl Bromide. Fumigation chambers can be made using a choice of materials, and documentation for auditing can be supplied at no extra cost.
Click here to view more details.

Silt Screens/ Silt Curtains

ABGAL's floating membrane barriers are a simple, cost effective way to prevent run off into waterways. Available in standard sized modular blocks of either .5, 1 or 2 metres high and 25m long, screens can be easily joined or separated to suit requirements. They can also be made to order, to any specification.

Spill Mats/Secondary Containment

With foam filled edges, a UV stabilised coating and resistance to flex cracking, these heavy duty spill pools are ideal for routine vehicle servicing and other secondary containment requirements. Available in a range of standard sizes, or can be custom made to any specifications.

Agricultural Shade
We can also produce agricultural shade covers for Commercial Nurseries, Hothouses etc. Covers use a 'clip lock' fastening system, to allow them to be supplied in modules, and attached to a frame-work on site. Covers are made with fully heat welded seams, and can be supplied with reinforced hems and eyelets if required.

Shade Sails and Waterproof Membrane

ABGAL utilise their advanced computer systems and technology to produce high quality shade sails and membrane covers. Using our exclusive 'Shade Calc' software, installers are able to measure precisely, and once the design has been entered, they can pin-point exactly where the shade will fall - any time of day. When a quality sail or membrane is needed, make sure your installer uses ABGAL to manufacture. We also manufacture clear cafe style blinds, for commercial and domestic applications.

Custom Covers

ABGAL makes custom covers for any object. Any size, any shape, and because covers are custom made, the only limitations are your imagination! Whether its a cover for a waterslide or a baseball diamond, ask ABGAL for a quote on a custom cover to suit your needs.