Liner Fixing Systems
'Quick Fix' Extrusion for above ground pools

'Quick Fix' above ground track and welded bead system is now available! It simply hangs over the pool wall, giving a better bead receiver. Once it is installed, there is no need to disassemble any part of the pool wall for future liner replacements, allowing liners to be replaced faster and easier - perfect for pools that have been decked in.

Welded Bead Types
ABGAL has 3 types of Welded Bead to choose from. You can have it facing towards the water or away from the water. The OB profile was revised in February 2013 following customer feedback, and now features a smaller profile - samples are available on request.

ExtBead (A)

ExtBeadOB (B)

ExtBeadW1 (C)

Waterline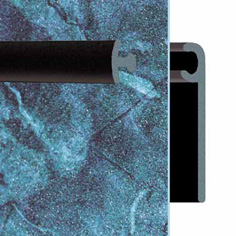 ABGAL has a variety of fixing systems including the incredible Waterline flexible PVC extrusion that seals the whole liner completely underwater. This allows you to use a ceramic tile band (coping) around the top of the pool, on bench seats and step areas then a low maintenance vinyl finish covers the rest of the pool.

Retainer & Capping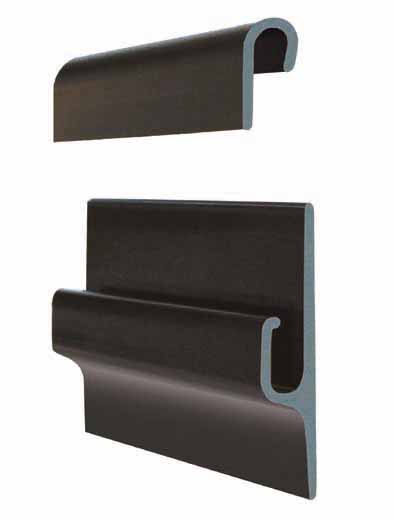 Other fixing systems include the ABGAL Retainer which is a flexible hook type acceptor that fastens to the inside wall of the pool.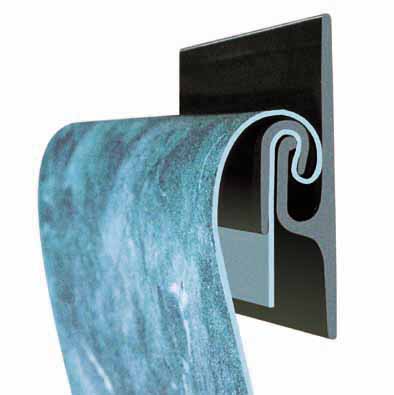 The Retainer can be used with welded bead or with Capping for overlap type liners. The wall height of the liner can then be adjusted during installation. This system is ideal for above water fixing where the pool may have overhanging bullnose brickwork or paving stones coping. Retainers and capping are made from flexible PVC which can easily fit tight radius corners.

T-Lock

The T-Lock extrusion is a smaller profile and designed for fixing vinyl liners above the water. Unlike the Waterline extrusion, T-Lock is designed to lock a beaded liner in place while providing a clean, neat looking edge to where the liner is fastened.

Liner Measuring Forms
For installers who prefer to work with markout forms, they can be downloaded from the markouts section of the website. Markouts can be printed out and faxed back, or scanned and emailed.
Alternatively, they can be completed online using Measure Wizard, our exclusive measuring and ordering app.

3D Measuring of Complex Pools


ABGAL pioneered the worlds first 3D pool liner measuring system for complex shaped Concrete and Fibreglass pools. This system allows the pool to be measured using a laser optical device which calculates the exact distance and records the data.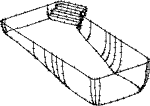 A complex shaped pool with over 400 points can be measured in about 2 hours. You can store as many as 2000 points in the measuring device and then download them to a computer file. The data file can be transferred via email direct to laser@abgal.com.au.
This system allows for very complex pools to be measured in any location and the data is more accurate than traditional methods. We have been using this system for many years, and find it ideal for our international and remote customers. The measuring equipment used is available in most countries.
ABGAL also has a unique and convenient online app called "Measure Wizard", which is available to professional installers. Measurements, taken either by a hand held laser optical device or traditional tape measure, can be entered directly into the app while they are still on site.
Using Measure Wizard, installers can view a 2D or 3D diagram of the pool, in real time as they enter the measurements. There are built in flags to ensure all data is entered correctly, plus it has an automated measurement checker. It gives on-the-spot pricing once a minimum number of details have been added. If there are any queries, photos can be uploaded, and ABGAL can reference them, with your measurements while you are still on site, and give guidance. This eliminates potential measurement errors, and the need for repeat site visits.
Once all measurements have been added, and colour selected etc, the actual order can be placed while still on site. All that is needed is a laptop, tablet or even a mobile phone with an internet connection.
For those who do not have out of office internet, or prefer not do process orders while still on site, there is an option for Off-Line users too.
Measure Wizard is exclusively available to ABGAL customers. Inground Liner installers who would like to become ABGAL customers are welcome to Contact us for more information.