The look of tiles... without the work!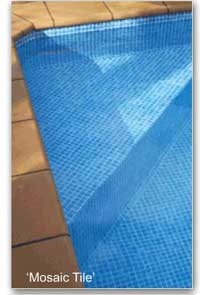 A freshly tiled pool might look gorgeous, but is very expensive to build, and can be a lot of hard work to keep clean. With the new Mosaic Tile finish from ABGAL, you can enjoy the luxurious look of tiles, installed within a couple of days, at a fraction of the price, and without the maintenance hassles!
This classic 'Mosaic Tile' pattern is one of the hottest trends in European pools right now.
The latest pool trends we're seeing for next season are use of formal or geometric shapes such as rectangles, which combine beautifully with large format paving stones. This creates a sense of spaciousness and clean lines which accentuate the geometric pattern of 'Mosaic Tile' - it makes for a timeless statement in your backyard. Team it with a crisp, white granite or paving stone, to experience the illusion of 'coolness' amid the Mediterranean tones of cool whites and vivid blues.
With our amazing 3D liner technology, steps, benches and even bar stools can all be built in to your liner, any size, any shape.