Temporary water storage solutions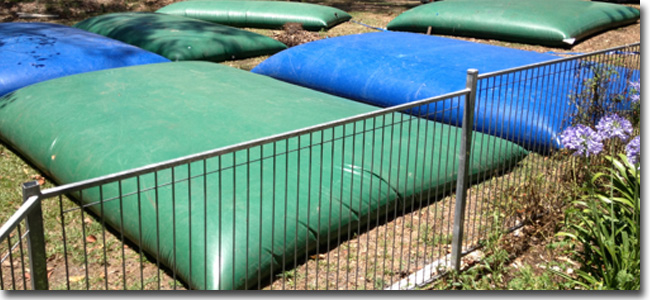 Portable tanks are ideal for temporary and emergency storage of water and other liquids. These flexible tanks are made from reinforced fabrics. Frameless, they are completely portable and fold up for easy storage when not in use. There are two styles of portable tanks, Open Top and Pillow Tank, and they can be made in a variety of fabrics including Aeon, PVC and XR5 to suit different applications.


Open Top Tanks (sometimes called onion tanks) have an open top, designed for rain collection and have an optional fitted mesh cover to keep out leaves and debris. These tanks are used for temporary supply of water for fire fighting, for remote sites or to maintain water supplies during repair of permanent storage tanks.


Pillow Tanks (often referred to as bladders) are fully enclosed. Our AquaFab pillow tanks were created specifically for on site water storage during swimming pool renovations, but have many other uses, and have been utilised by the Red Cross and the US Military, in places such as Rwanda and in the Middle East.
Tanks are supplied with standard inlet and outlet fittings for connection to existing reticulation systems.
To request a quote on a portable water storage solution for yourself, please call, or use the Portable Tanks enquiry form. We promise to get back to you soon!