A tank liner is a practical solution to recurring water tank repairs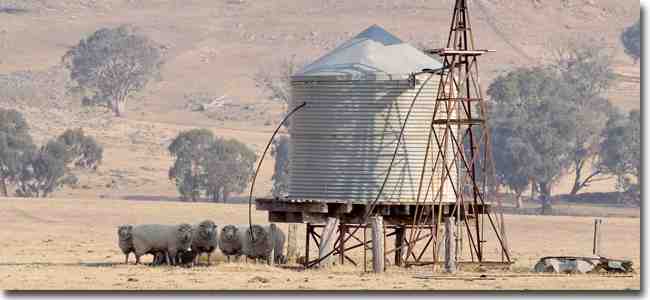 If you have a cracked, rusted or 'mystery' leak in your water tank, chances are you've already tried patching it. In fact, you've probably patched it several times, and now you are looking for a more permanent solution. A tank liner can be made to suit any size or style of tank - for domestic, industrial, rural or commercial use.
Ideal for older tanks with rust or cracks, repairing concrete water tanks, or newer tanks which have been punctured or cracked following ground movement. A tank liner is also commonly used for water tank refurbishments following bushfires to protect from contamination and corrosion. As long as the tank shell itself is structurally sound (ie able to hold its intended capacity), a liner is a cost effective, durable alternative to traditional tank repair methods.

ABGAL tank liners are suitable for drinking water (potable), stock water, food and chemical storage
ABGAL use a range of materials for tank liners, depending on what the tank will be used for, and all potable tank liners are certified to AS/NZS4020:2005. For the Australian domestic market, ABGAL tank liners are most commonly made to suit water tanks, but they are also made in a variety of specialist, non-wicking fabrics to suit other purposes, such as electroplating, aquaculture, food storage and chemical and oil containment.

What are the benefits of a water tank Liner?
A tank liner will protect against leakage, erosion and contamination from the tank outer. Made from a variety of heavy-duty, specialist fabrics which will not wick or seep, ABGAL water tank liners are flexible, Suitable for open and closed top tanks of all construction types, including concrete, galvanised, corrugated iron, fibreglass, brick and poly.
ABGAL tank liners are made to order, to fit any tank, any style, any size. You supply the measurements, we make it and freight to you, for DIY installation.

Why an ABGAL tank liner?
Speedy, obligation free quote
Warranty options with all tank liner styles
Flexible and stretchable - perfect for areas with frequent ground movement
High quality fabric, made in Australia for Australian conditions
Options for different grades of lining to suit individual needs
All potable liners certified to AS/NZS4020:2002 for drinking water
Do it yourself installation. You measure, we make, you install
Fast turnaround, often delivered within a week
Over 30 years experience in liquid containment
After sales service - we will be here long after you've installed your liner
ISO 9001:2008 Quality Accreditation for manufacturing
100% Australian owned and operated

How much does a tank liner cost?

Because every tank liner is different, they are all quoted on a tank by tank basis. The price can vary greatly, depending on many factors such as size, shape, whether it is for drinking water or stock water, any fittings and of course freight.
To give you an accurate price, we need a few measurements - For round tanks, measure the tank height and diameter, and for square tanks, the length, width and depth. Include your postcode, and we can also provide a price for freight too.
You can either call us using the freecall number (1800 077 533) complete the quote request form (above right), or send us an email - we can usually get back to you by the next business day.