A water tank liner is suitable for DIY installation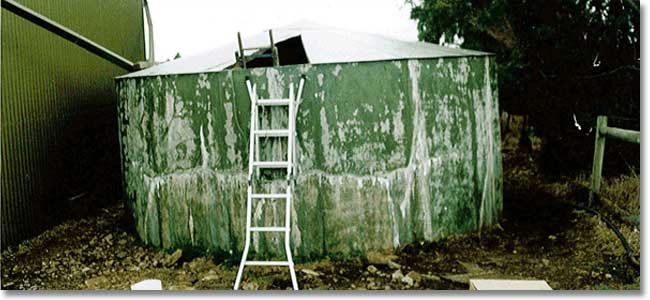 If you can get inside your tank, you can install a new tank liner
ABGAL tank liners are made to order, to fit any tank, any style, any size. You supply the measurements, we make it and freight to you. Only 20% of our tank liners are profesionally installed - the majority are DIY. If you can get into the tank, you can do the installation yourself, feeding the liner in through the manhole.
The installation process itself is relatively simple.
Remove the outlets and ensure the tank surface is free from sharp edges or protrusions.
Attach a fixing extrusion (a two part plastic fitting to hold the liner in place in a roofed tank - this is not necessary in an open top tank).
Fit the liner (by feeding it in through the manhole).
Fix the liner to the extrusion (or band it around the wall of an open topped tank).
Re-install existing or new outlets, give the liner a gentle clean and rinse, then fill the tank.
Every water tank liner is supplied with printed installation instructions (you can download a PDF using the link in the quick menu above), and you can watch our instructional video 'How to install a tank liner' below:
Can not see the video? Please click here.

Cleaning the tank liner prior to filling
If initially filled only to a shallow level, there may be a short term 'plastic' taste associated with the water. While this is not harmful, it is easily avoided with a quick clean:
Once the liner has been installed, use a soft broom or mop and a small amount of liquid soap (eg liquid 'Softly' to wash down the inside surface of the tank (walls and floor).
Rinse well, (with the same mop or broom), and a small quantity of clean water.
Drain the tank, then fill with fresh water to the required level - the higher the better.
Note: If the tank is initially filled with only a small amount of water to hold the liner in place - such as while house construction is completed, this water should be drained out before commencing this procedure.