Renovating a tiled swimming pool with Aqualux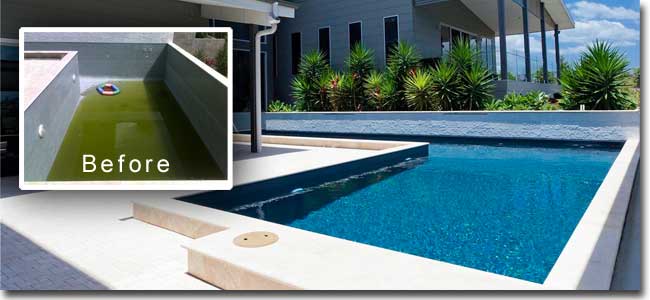 Repair a cracked or leaking tiled pool with an Aqualux flexible pool finish
While they look great, and are often regarded as the best type of pool surface, a tiled swimming pool can be a major headache for some pool owners. Tiles offer no flexibility, and can not accommodate any movement in the ground that causes cracking of the pool concrete shell. Once a pool shell cracks, the tiles will crack themselves, or along the grout lines, which allows the pool to leak.
If you have a tiled pool, and are facing leak repairs regularly, it is likely ground movement is your problem. When it comes to tiled swimming pools, it only takes a small amount of movement to cause frustrating and repetitive cracks and leaks. Periods of wet weather followed by dry spells cause the ground to expand and contract can be all it takes to cause thousands of dollars worth of repairs to your swimming pool.mselves, or along the grout lines, which allowsIf you have a cracked and leaking tiled pool, it is almost certain ground movement is the issue, and a conversion to a flexible Aqualux pool finish will be the answer to your problems.
Once a pool is cracked, filling the crack with sealants or epoxy putty is only good until the next time the ground moves, as it will simply crack again. A flexible finish will move with the pool, always keeping it water tight..

A waterproof, flexible barrier to protect the pool shell

Your installer will have an Aqualux membrane custom made to fit your pool shell. Perfectly fittted around every corner, step and bench, it is vacuumed into position, and held into place with the weight of the water. There are no glues or toxic compounds - just a completely sealed, protective membrane, guaranteed to keep your pool shell water tight for years to come.

The Aqualux pool finish does not rely on a chemical bond to the old pool surface - which means it won't delaminate or peel off over time - unlike some other surface finishes. The risk of using products that rely on bonding to the old pool surface is moisture. A leaking pool that is in the ground will have moisture in the surface which interferes with any product trying to bond onto it. That's why Aqualux is 100% successful, it doesn't need to adhere to the pool surface and so doesn't rely on the bond - and therefore, won't peel, chip or flake from the pool surface.

New glass tile pool converted to Aqualux

This particular pool is a classic example of when tiles were unsuitable. Despite more than $60,000 worth of glass tiles, this pool started leaking within the first few months, and needed substantial repairs. A few months later, it happened again. Within an 18 month period, the home owners had paid for three separate repair jobs, all caused by ground movement.

It was clear that tiles were never going to work in this pool - a flexible surface finish was needed to cope with the ongoing ground movement.

Since an Aqualux finish was installed, the pool has been leak free, and the owners are enjoying a pool which also uses less chemicals than before and requires less maintenance! (And just quietly, we think it looks better too).